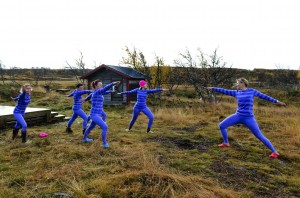 We offer a unique concept in the mountains, as my packages combine hunting and yoga. Hunting and the outdoors provide excitement and yoga teaches us to focus, giving us the tools to be here and now. Yoga also includes good stretching exercises.
We start the day with a yin yoga session, after which we go hunting. We cook lunch together over an open fire. You can either cook dinner yourself or with the guides. After a long day hunting in the mountains, it's a wonderful feeling to lie on a mat and to stretch and relax your muscles and tendons. The yoga teacher will also guide you in mental training that is beneficial when shooting.
The mindfulness exercises you will learn will probably benefit you in the rest of your life. Deep relaxation is another element that is part of the concept.
Let us add a little excitement to your life for a few unique days of hunting and yoga in Ljungdalsfjällen.
We also offer Massage in the relax (not included)
Program:
Joy Event – Hunting and Yoga-19 (2)