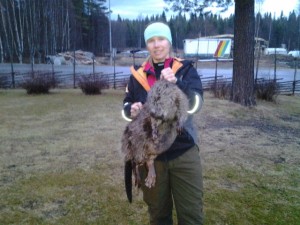 We organize great beaverhunting packages in good huntingpropertys in Jamtland in springtime.
Choose from full or half board.
The packages include hunting license, guide and accommodation. In order to hunt you must have a guide.
In Börtnan you can hunt at 2800 ha , where you stay at selfcatering cottages in Camp Börtnan.
(80 minutes drive from Östersund).
Hunting package with accommodation and guide from 700 Euro//day (2 pers)
Hunting package with guide, accommodation and fullboard
from 890 Eoro/day (2 pers)
Price including 2 beavers/day