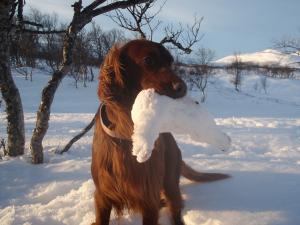 Bring your hunting colleagues along and train your dogs on our private land ahead of the hunting season. You will have the area entirely to yourselves. The price is for one party per day with no more than 5 dogs. Stay in the "kåta" (tipi) or in a cabin during your stay.
Price: SEK 1,000 per day/5 dogs (for private parties, VAT additional for corporate customers).
If you need professional help/support when training your dog, I am able to offer this for a supplementary fee.