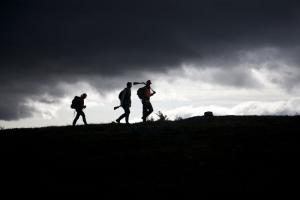 "First of all I want to say thank you again for the wonderful day with you. Thank you also to you and your dog for my first grouse. You are a very attractive personality and it was a pity to see you only that short time. It was very nice to meet you and I hope we`ll see each other again soon. I will definitely come back on your offer to visit you in Ljungdalen for another hunting tour. Let`s keep in touch!"
Autumn mountains: 25 August – November
I offer grouse hunts over pointing dogs in Ljungdalsfjällen.
My hunting ground, that we will be hunting on is about 800-1000 hectares (1900-2400 Acre) ,
the land is private and the terrain is beautiful and varying.
From birch woods to the shores of the lake, islets, bog and bare mountain.
Surrounding the land is the lake Öjön, on which you can borrow a boat if you please to use when hunting on the small islands in the lake. The terrain is pleasant and easy to move through.
Stay at the heart of the hunting grounds in our cozy 6-bed cabin or in our wood-heated Tentipi. It is possible to hunt using your own dog, as well as to buy a hunting package with full or half board.